Wild Caught Omega 3 Fish Oil Supplement - 1260mg, 90 Servings
1260mg of Omega 3's Balanced EPA/DHA:  Our omega 3 supplement has 1260 mg of omega 3's per serving with 640 mg EPA, 420 mg DHA & 200 mg of other essential omega 3's. No omega 6 fillers. Need extra strength, 2000mg plus? Double the dose and take 2 servings for 2520 mg or triple dose with 3 servings for 3780 mg of pure omega 3's. Customize your daily dose

No fish burps, No aftertaste, Tasteless:  Fish oil capsules in softgel form making them easier to swallow despite their size. Our premium quality fish oil concentrate is tasteless, flavorless, and doesn't cause fish burps or a fishy aftertaste.

Wild caught, purified, optimal absorption: Sourced only from wild-caught Alaska Pollock, never farm raised. Ultra purified and molecularly distilled to remove mercury and other toxins leaving a pure omega 3 concentrate in superior triglyceride form for optimal absorption. Non GMO, Gluten free, Dairy free. No additives or preservatives

Made & sourced in the USA, Sustainably caught: Sourced from Alaska, made and packaged here in the USA. Only from Wild Alaska Pollock. Why Alaska? Alaska has sustainability written in their states constitution resulting in highly ethical fisheries. At TGS Nutrition, we strive to deliver the best nutritional vitamins and dietary supplements in their most natural form free of unnecessary additives and preservatives
High Quality Purified Omega 3 Fish Oil Concentrate
Our fish oil concentrate is purified and refined to eliminate heavy metals like mercury. The fish sourced are 100% wild caught in the cold Alaskan Sea. It is made in a NSF/GMP/cGMP certified facility. Our omega 3 concentrate is made up of pure omega 3's in TG form, most other brands have a mix of omega 3's and omega 6's. We don't add preservatives or any flavors. It has no taste.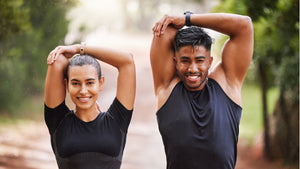 Benefits of Omega 3's
Omega 3 fatty acids play an important role in our overall health ranging from brain function, eyesight, bones, joints, immune support and more. Our diets are filled with omega 6's but usually lack omega 3's. Maintaining healthy levels is essential for optimal health.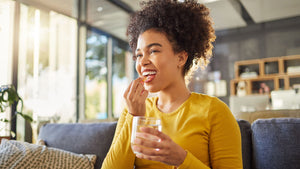 Burpless & Tasteless
TGS fish oil concentrate is flavorless and tasteless. Our omega 3 goes through a multi-step ultra purification & refinement process to extract pure omega 3's without omega 6's and eliminate toxins like mercury. The result? Easy to digest omega 3's that don't cause fish burps or a fishy aftertaste.
Omega 3 Peace of Mind
Omega 3's are vital for the health of both men & women. While it's best to consume vitamins & nutrients via food, it can be challenging. High quality fish oil supplements make it easy and convenient to cover all your bases. Does your diet contain enough Omega 3's? Two pills a day is all you need.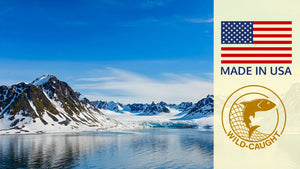 Sustainably Wild Caught in Alaska
Our fish oil is sourced from wild caught Alaska Pollock in the cold Alaskan sea. Alaska has sustainability written in its state constitution resulting in high quality, ethical fisheries. Alaska Pollock is a highly nutritious and abundant fish that can be wild caught without damaging the ecosystem. Made in a NSF/GMP/cGMP certified facility.
Does your fish oil have enteric coating?

No, enteric coatings prevent stomach acids from breaking them down causing stomach issues in some people. Instead, our multi-step refinement and purification process results in easy to digest omega 3's that don't cause fish burps or fishy aftertaste.
What does the "other omega 3's" on the label consist of?

Our purification and filtration process extracts a high concentration of EPA/DHA but other omega 3's pass through. The 200mg of other omega 3's is a sum of ALA, SDA, ETA & DPA.
The serving size is 2 capsules. Can I take 3 or 4 capsules for a higher does?

Yes, you can take a custom dose depending on your needs. The serving size is 2 capsules, this means each additional capsule you take adds 630 mg of omega 3's.
What type of gelatin is the capsule made of? Is this pork?

It's made from bovine gelatin.
The BEST fish oil!!
I've purchased this product 4 times and counting. It is exactly the same in quality and content as major brands! My usual brand was discontinued and luckily I found TGS Nutrition. I have a ton of allergies, so I'm pretty particular. The fish oil from TGS is not only high quality, but it's clean. No fillers or junk. It's also an amazing price! I highly recommend.
Good fish oil
I have been taking fish oil for years for heart and brain health. This fish oil by TGS Nutrition seems like a good one. It is sourced from wild caught Alaska pollock. It contains the triglyceride form of Omega-3's and the quality seems good. A serving size of 2 softgels contains 640mg of EPA and 420mg of DHA. The softgels are of the regular size and pretty easy to swallow. No fishy odor or burps.
Always use trusted wild caught sources
Fish oil is a great supplement to take for so many reasons, heart and brain and joint health to name a few. You likely aren't getting enough Omega 3 in your diet unless you eat fish a few times a week. Pregnant women need it more as it is critical for fetal development and for young kids it is important for brain development too, so read up on it. The recommended dose of total Omega 3 is 1100 mg for women , but 1600 mg for men, so this product falls a little short for men. Yes, you are getting oil from wild caught pollack, USA made. And that's what your paying extra for of course. But there are other available options too of wild caught fish that are equally good, so shop around . More isn't necessarily better, but try and get the recommended dose and a high amount of DHA ( at least 200mg DHA ) . This one covers that easily. This is a worthy product , but the fact that you should take it consistently means you need to find your most affordable option. Research and shop. Spend your money on good and economical products and always understand what you are taking and why. No complaints, this is a 3 month supply for about 14.00 a month and a good clean product.
This omega 3 fish oil is perfect
I am glad I purchased this jar from TGS Nutrition.
This company is famous with pure and clean products, and no additives or anything else, but what the product should be. I like this product a lot and it is as expected - just pure Omega-3 fish oil.
Thank you TGS Nutrition for creating amazing and high quality supplements!
Another great product!
I do my best to find trusted sources and if you ever reach out to TGS you can tell they really care about their customers! Great fish oil!
This is VERY NATUAL!
I really like this product. Many manufacturers and sellers have a tendency to overstate the benefits. However, that is not the case this time because this product really worked for me. I have to give it my highest recommendation. Five stars!
Happy with it so far
I've been taking this for a month now. I didn't know omega 3's were so important until my dr told me to consider taking a supplement. I'm very happy with it so far.
Good choice for omega 3's
I take many various dietary supplements. But fish oil is the only one that I take faithfully daily. And I'm approaching 70 years old with great health, vigor and mobility. This TGS fish oil product comes packaged 180 softgels per bottle. Serving size is two softgels daily which delivers 640 mg EPA, 420 mg DHA, 200 mg other Omega-3s. The fish oil is sourced wild-caught Alaskan Pollock (not from shellfish or krill) and the softgel capsule is bovine gelatin-based . . . which is compatible with my kosher-like diet. Labelling claims the fish are sustainably caught, then processed to eliminate mercury (small fish generally contain much less mercury anyway). Expiration date appears to be about 2 years into the future.
TGS Omega 3 fish oil - 1260mg
It is really hard to find supplements now a days that are transparent. Whether it's transparent with ingredient amounts vs. just proprietary blend formulas, or transparent on the actual ingredients. The fish oils by TGS have both transparency on the amount of EPA/DHA which are both in line for the levels you want in a fish oil, as well as, where the fish oil originates from (Alaska Pollock). I take 2-3g of fish oils a day as a normal part of my diet. These are easy to swallow and provide a good source of omega-3s.
Excellent!
Excellent product and great price. I don't like fish but still need Omega 3s. The EPA and DHA content is great. Quality is what matters more for me - Wild caught, Made AND sourced from USA.